Social media and email marketing are two of the most powerful tools for any business. They can be used to promote your products, generate leads, and increase brand awareness. A lot of times, in the digital marketing space, the two tools are seen as fierce competitors.
But in reality, they work best when used together. Today, I'm giving you my best tips for how you can use email marketing AND social media marketing to maximize your sales on Black Friday… and beyond.
Why Joining These Forces Is SO Powerful
By now you know that email marketing is the most reliable, consistent avenue for marketing your business. Emails are guaranteed to get in front of your audience. There will never be a time when algorithms mess with whether or not someone receives an email.
Because your audience has signed up to be on your email list, your chances of having emails opened are significantly higher than if you're just relying on social media algorithms to get your message out.
Email marketing is non-negotiable. It works. You need to have emails going out to your audience on a regular basis.
But, there's something really magical that happens if you combine the powers of social media with your email. (Read about some of those benefits here.)
Social media has become a front-runner in the marketing game, and it needs to be utilized for getting your business seen, too. Social media makes it even easier to get you in front of a large audience.
By combining social media and email marketing, you can build brand awareness and credibility. People are going to see you everywhere they look… from their email inbox to their Instagram stories, they know who you are. They also know what you stand for and that you are a reliable, genuine connection in your field.
Use Your Social Media Platforms to Grow Your Email Subscription List
One way to use your social media effectively to market your Black Friday sale is to get your audience to a lead magnet. The next time you go live, make a post, or share a video on social media, send people to a freebie that will solve problem for them.
By doing this, you get them on your email list, making you visible to them on multiple platforms. And they will start getting all of your emails– from your Black Friday sequences to you evergreen sequence.
The bonus benefit– when you get your lead magnet visible on social media, people following you can share about it. Which means your content is being seen by others that wouldn't typically know about you and what you do. Which means you get new followers.  It also drives those new people to your email list.
Getting people to share your freebie or details about your Black Friday sale is a great way to get new eyes on your business!
Now you've grown your email list just in time for your Black Friday sale!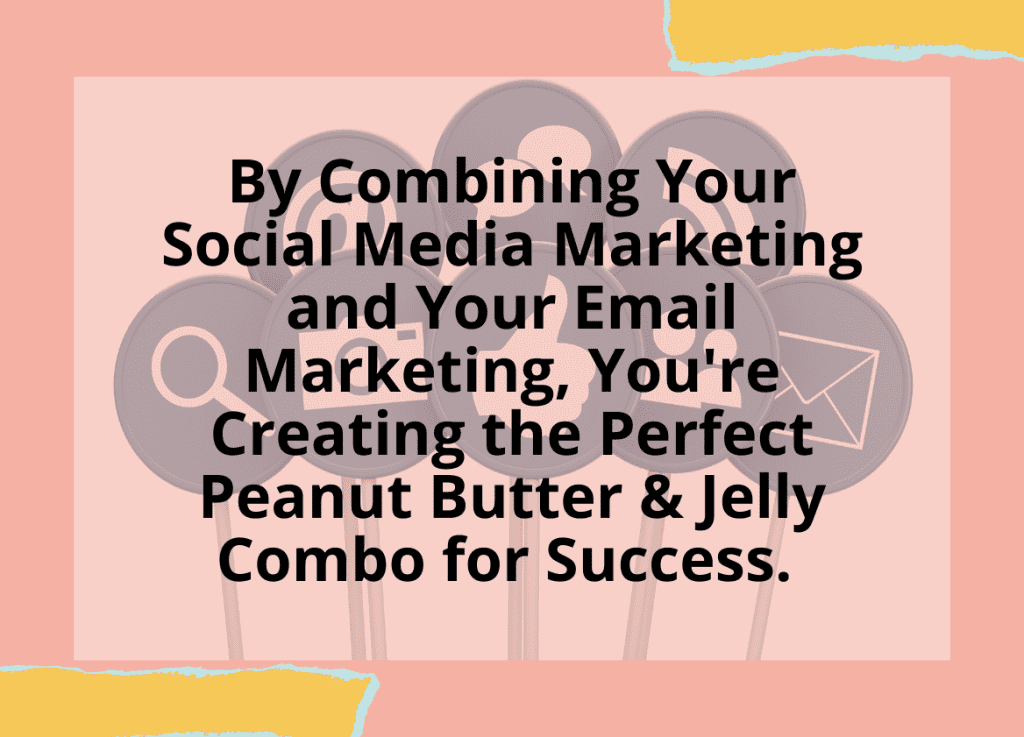 Make Sure Your Audience Knows WHY They Need To Be On Your Email List
But don't stop with growing your list… Make sure your audience knows the value of being on your email list.
Share about the exclusive deals and access people on your email list receive by talking about them on your social media platforms.
For example, this week, in my episode of Evergreen Emails Explained, I highlighted what my email subscribers get that my social media audience doesn't have access to.
Now every person that watches that video across various social media platforms will know WHY they should be on my email list.
They know that they will get exclusive access to workshops and resources that I don't promote anywhere else.
I saw this in action this week with a SUPER popular influencer this week, too.
She launched a new product.
But she didn't offer a discount to her social media followers.
The ONLY discount available for her launch was through email.
Let that sink in for a minute.
A HUGE name in the Instagram influencing space was using SOLELY email marketing to give her audience a discount.
Why?
Because now she has thousands of people on her email list… So every time she has a launch, a new offer, or an event, it's guaranteed that ALL of those people will know about it.
She promoted the email discount on social media. Which got people to sign up for the list.
Her new product sold out in 4 HOURS!
This is the magic I'm talking about. When you use your social media platforms and email marketing in conjunction you can yield HUGE results!
But it doesn't end there.
Save time… Repurpose that Content!
When you join the two forces, it gives you the opportunity to repurpose that content you're generating.
So, if you feel like writing emails takes up a ton of time, and you just can't seem to justify the benefits with the amount of time it takes you, consider this.
If you send out one email a week, you could repurpose that email into multiple social media posts.
Here's how:
Did you include a statistic in your email? Feature it in a social media graphic.

Did you give three tips to help your audience? Great, post them on Instagram and Facebook.

Can you use the content from the video to make a quick 3-5 minute video about the topic?

Pull out quotes from the email and create several social media posts.
Now you've taken that email and turned it into 5 different pieces of content.
I know you're busy. And when you're preparing for a huge launch or sale, like Black Friday, any time-saving strategies will be super helpful.
Use these tips to combine your social media marketing with your email marketing this Black Friday. You'll grow your email list, make your company more visible, save time, and generate huge sales.
You could be like the influencer this week– and sell out on Black Friday in a matter of hours.