Email Marketing for Business Owners
Step into a world where your emails work for you round the clock, even when you're taking a breather! Evergreen Me is a done-for-you email marketing subscription designed to speak in your voice, echo your energy, and deliver your value. With monthly emails ghostwritten for you, you can reach your audience without being the one that has to write everything (because you already have enough on your plate!). Stop letting your lack of consistent emails leak cash and start generating consistent income with Evergreen Me!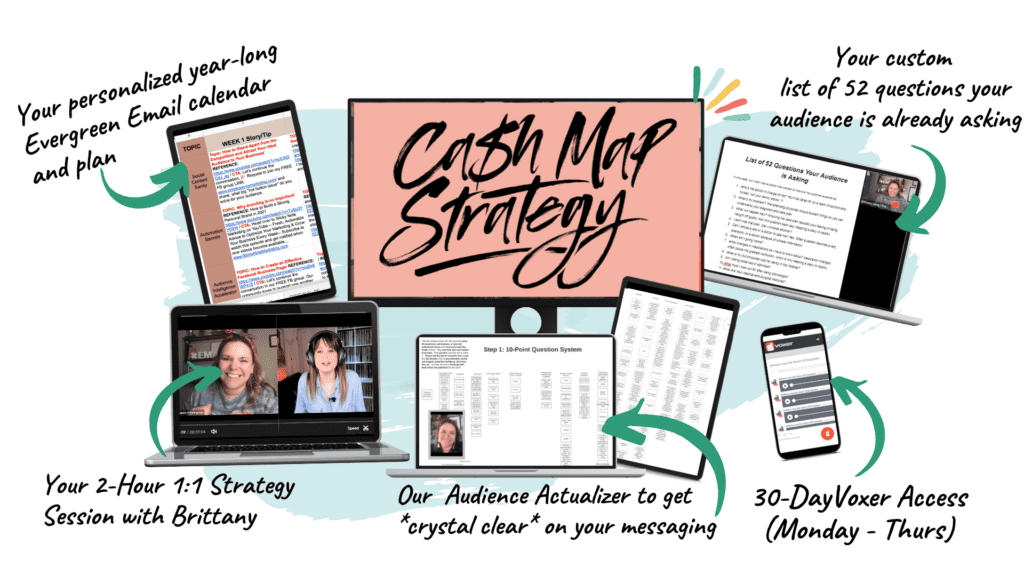 The Cash Map Strategy is our 1:1 2-hour strategy session where we'll get crystal clear on your Evergreen Email strategy, messaging, and topics so nothing holds you back from making money from your emails. This session is best for entrepreneurs who want to make automated sales via email, have a writer (even if it's you) but no evergreen email strategy. 
With this session, you'll also get a custom list of 52 questions your audience is already asking (which you can use for both social and email) PLUS 30-day Voxer access for you and someone on your team.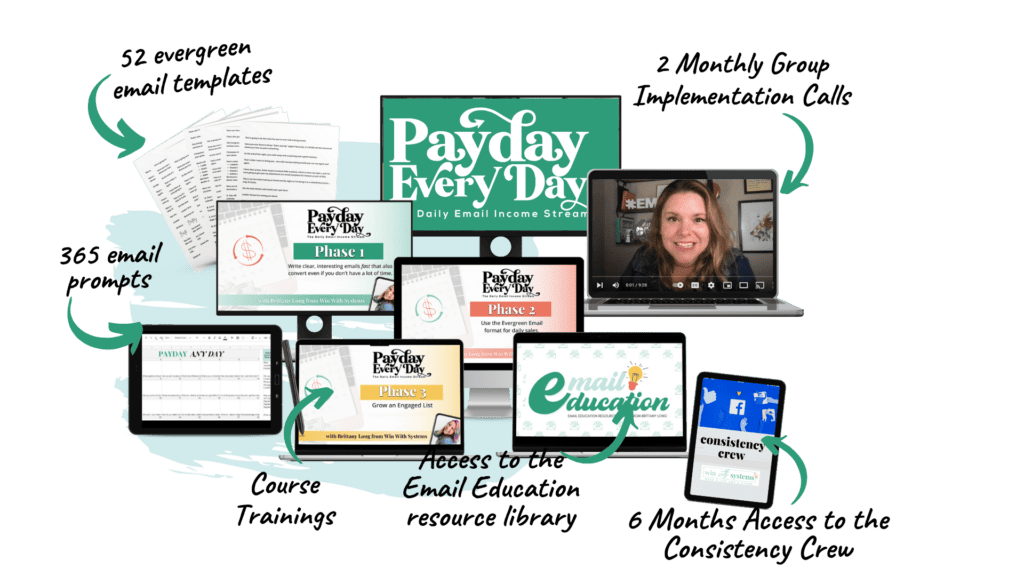 Writing your own emails or hired a VA to write for you? The biggest obstacle is: "What do I write and when so I can make sales from automated emails?"
Payday Every Day is designed to help you overcome that obstacle. Through this learn-at-your-own-pace program, you'll learn the strategy behind evergreen emails, how to write them, and how to utilize them to both nurture and sell to your audience. This program also includes 52 email templates, plus a calendar with ideas on what to write about any day of the year. 
More emails go out on Black Friday than any other day of the year. If you want to cut through the noise and get through to your customers when there are hundreds, if not
thousands
of other offers, you need an email structure that's proven and has worked again and again for business owners just like you. Get the Black Friday Pre-Launch and Launch email templates today and use them year after year.

Need an abandoned cart sequence specifically for Black Friday or a launch? Something that will help your audience take action on your sale before it closes? This abandoned cart template for only $37.00 is perfect for business owners with very little time and a launch to crush. 
With 70-85% of potential customers leaving the cart before they buy, there's an incredible amount of lost revenue. Our abandoned cart emails can help you recover some of that revenue and work on autopilot. With these templates, you can get your abandoned cart sequence up and running (so you can earn back some of those lost customers) starting this week. 
This four-email sequence is perfect for non-fiction authors who want to increase sales through their email list. 
A flash sale is the perfect way to generate a quick, powerful cash injection into your business. These flash sale sequence emails include built-in urgency. Grab your flash sale sequence template today.
Promote your webinar and score more sales with the live webinar email templates. 
These email templates are specifically made to release at the end of a challenge. Unlike other launch emails that don't address the challenge your readers just experienced, these templates not only acknowledge the challenge, it leads from the challenge into the offer seamlessly. 
Fulfillment emails are your prime real estate – they're the emails most opened, and yet the majority of business owners send a half-baked email that says "Here's the thing you ordered" and that's about it. Fulfillment emails are the first and most important email in the customer journey.
Ready to launch your podcast and want to get the most out of it? These emails help you announce your podcast launch to your audience, request reviews, and remind your audience to listen. If you want to increase your podcast downloads right from the start, grab your podcast launch email templates now!
Eager to earn more from the offers you've already created? These upsell and downsell email templates help you increase your average lifetime value of each customer.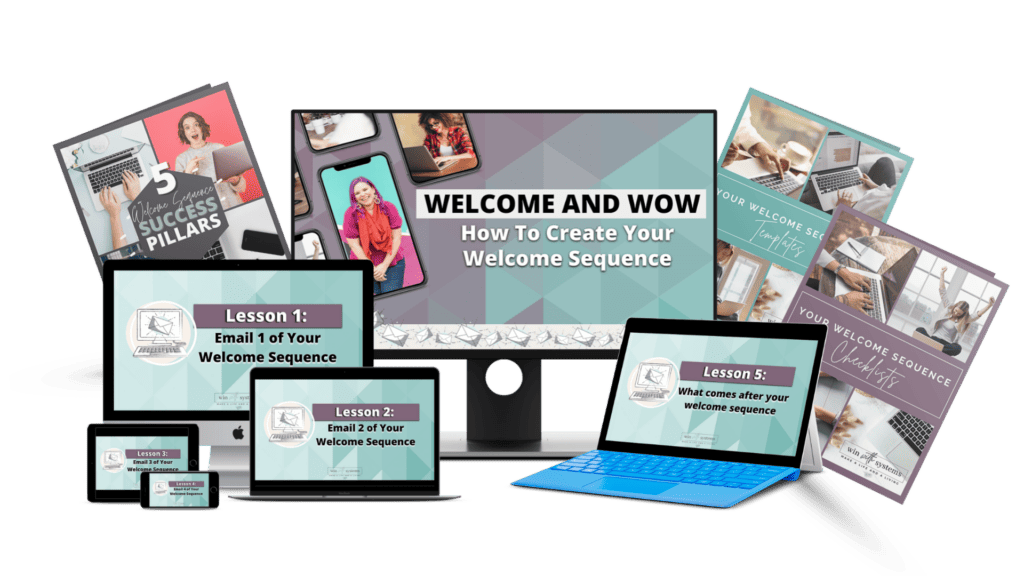 The step-by-step, fluff-free mini course and email templates are for entrepreneurs who want a shortcut to create an engaging and welcome sequence without being a copywriting pro or hiring one.
Whether you're a team of one, two, or twenty, Welcome and Wow is the perfect shortcut to a welcome sequence that not only delights your new leads but gets them primed to buy from the start.
Want to make more throughout the year in between live launches? Know that you can do it through a year-long nurture-and-sell sequence but feel wildly overwhelmed by the thought of writing 52 emails on your own? We've got you covered with 52 templates to help you create a year-long nurture-and-sell sequence that can take offers you've already created and sell on autopilot while also building a relationship with your audience.
Are you tired of wrestling with writer's block and decision fatigue as you sit staring at a blank Google doc, while your to-do list multiplies by the minute? Now imagine breaking free from that stress and decision fatigue, mastering the craft of writing emails in minutes instead of years. With the help of 5-Minute Email Framework, you can write those revenue-generating emails fast.

This is not about viewing your customers as cash cows, but about genuinely engaging with them, understanding their needs, guiding them towards more of your irresistible offers, and turns first-time buyers into repeat customers, again and again. 
Story Stash Email Marketing Journal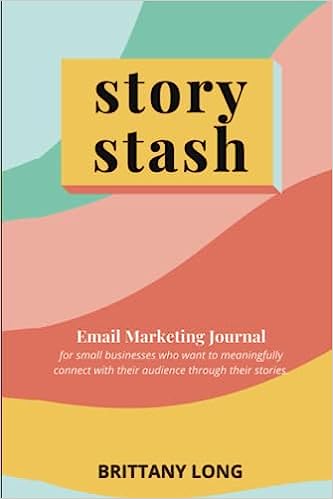 Has your audience stopped clicking on your emails? Have your responses come to a standstill? Do your emails feel so boring, impersonal and templatized that your readers have checked out and your email sales have dipped?
Give your audience a reason to stick around while connecting with them on a deeper level. With the Story Stash Email Marketing Journal, you'll have a physical place to write down the stories that'll go into your emails. 
List Building Personality Framework
The List-Building Framework serves as your ticket to growing your list without feeling like you're selling out or being inauthentic. Use the List-Building Framework to find the right lead generation strategy that you can actually stick with, then use the customized plan (an instant download after the quiz) to bust through resistance and monetize your email list.
Clickable Subject Lines Workshop
Experience better open rates with better subject lines. In this short but powerful workshop, you'll walk away knowing how to write better subject lines.
This simple-to-follow and easy-to-implement workshop, that's available for only $27, covers the six most important sequences you need in your business (yup, no matter your industry) to optimize you automatic revenue from emails. We cover the highest ROI sequences, how to properly utilize them and in what order to create or update them.
Create a Better Black Friday - Recordings
Say goodbye to the stress and chaos of last-minute Black Friday offer creations with our easy-to-follow, pre-recorded lessons about how to create your own better Black Friday
Business and Marketing for Business Owners
Turn your Zoom Waiting Room into a Revenue Room. The Revenue Room comes with a step-by-step video and PDF guide, a ready-to-use customizable template, and expert insights from successful entrepreneurs who've used this method to bring in sales while people wait for a meeting. With Revenue Room, you'll have all you need to set up your own interactive virtual billboard, even if tech isn't your strong suit.
Experience an unfiltered, honest look at the strategies I use in my membership, courses, speaking engagements, and agency work, including the highs, lows, and everything in-between. You'll get the whole story – the successes, the stumbles, and the invaluable lessons learned along the way. Plus, you get to ask your burning questions about my strategies and how they're actually working.
Marketing Strategy and Consultation​
Work with Brittany 1:1 in a Marketing Strategy and Consultation Call. Clients come to Brittany for marketing plans, to review and dissect what is and isn't working in their business, and offer creation help, to name a few. 
AI Copy Club and Consulting for Business Owners
The AI Copy Club is your ultra affordable AI membership to get started with AI and discover all the ways you can use AI in your business. The AI Copy Club also features AI prompts, trainings, "Recipes" and more. 
From distinguishing your unique offer to mapping out emails for efficient delivery, this Black Friday Sales Week leverages ChatGPT to determine your Black Friday offer, create your Black Friday sales page copy, Black Friday emails, and more.  
AI Book Week (AI Sprint) - Live
For entreprepreneurs who are tired of the polished (but ultimately fake or highly edited) view of what is realistic with AI, this raw, unedited and unfiltered livestream will follow me around for 3 days to see what it really takes to write your book with AI. Watch me create an authority-building book using ChatGPT in just 3 days — and get ALL my prompts so you can do it too. 
Train Your AI Team Masterclass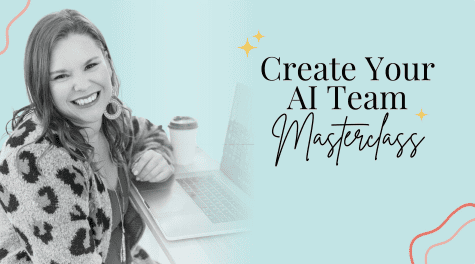 In this easy 5-step process, you'll learn how to utilize ChatGPT to identify the AI roles you need on your team, how to create the job description for each role with ChatGPT, how to train your AI team member in a ChatGPT chat (even if you don't know what tasks someone in that role normally does) and best practices for the best results. 
Create Your Own Custom Prompts Masterclass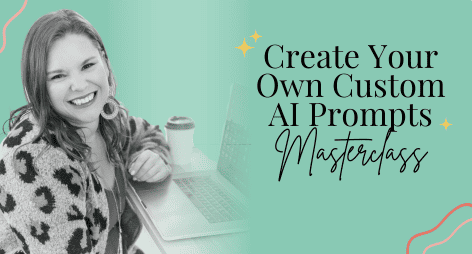 This masterclass that will show you how to create your own custom ChatGPT prompts. Gain the knowledge to create your own custom prompts with this super affordable, one-time payment.