In the world of online shopping, 60% of all shoppers will abandon their cart. That number is utterly shocking.
A lot of times customers abandon carts because of unexpected charges on their order. Anything from upsells to bonuses, taxes, fees, or shipping costs can change their mind. If it's beyond your advertised price for your product,customers could abandon their cart.
Some customers get frustrated with lengthy checkout processes or having to set up an account on your platform to complete their purchase.
When you're selling a physical product, sometimes they are looking for specific shipping options you may not have.
If 60% of your potential customers abandon their cart, you are leaving a TON of potential revenue on the table… Especially if it's Black Friday and you've got high expectations for your day.
Luckily, there are ways to capitalize on (and avoid) abandoned carts. Having a solid plan in place for when your shoppers leave before completing their purchase will have a huge return on investment for you!
Prepare an Abandoned Cart Sequence Specific for Your Black Friday Sale
First, you should have an abandoned cart email sequence ready to send out to any customer that doesn't complete a sale.
An abandoned cart email will automatically follow up with that customer and remind them (and sometimes incentivize them) to complete their purchase.
It's a great way to remind them of the benefits your products and services can give them. There's a reason they started the process after all.
Sometimes your customers just need a question answered or clarification on something. An abandoned cart sequence will provide them with the information they need to finalize their purchase.
Research shows that the conversion rate of those abandoned cart emails is 59% on Black Friday and 49.2% on Cyber Monday (omnisend.com).
With conversion rates like that, you can't afford to not send abandoned cart emails. You can recover a huge portion of your sales just through this strategy alone.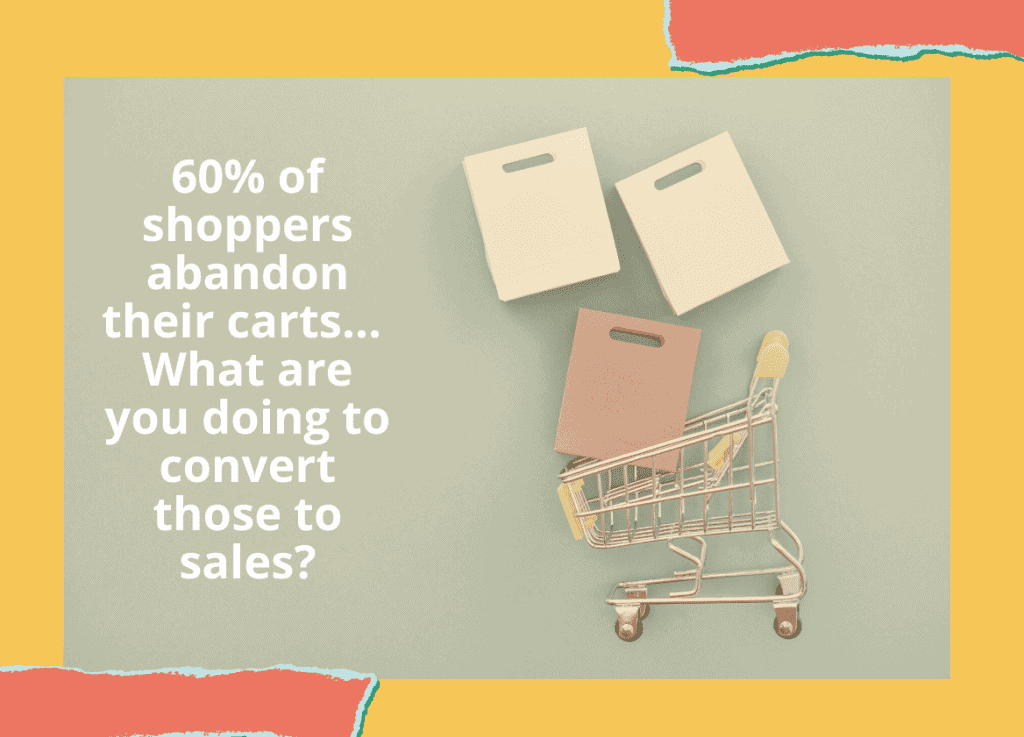 Warm Your Audience Up for Any Upsells or Add-on Offers You're Planning
Second, warm your Black Friday shoppers up for any upsells or add-ons you plan to offer. While you are sending out emails leading up to your Black Friday sale, be sure you highlight any bonus deals you're including. That way they know exactly what to expect when they click "add to cart".
When you are offering products or services at a discounted rate, and you let your audience know about ALL of them ahead of time, you'll have much more positive results.
If your customers don't know about your "bonus" offer ahead of time, it can have the opposite effect you want it to.
You think you're giving them a great deal and a FABULOUS product. But sometimes all they see is you pushing more sales.
If a potential customer is turned off or frustrated by your upsell, they aren't going to purchase from you at all.
Be sure that you're transparent about your offers before they get to their shopping cart.
You don't want to give them any extra reason to abandon their cart.
Add an Exit Intent Pop Up to Your Black Friday Checkout
One last tip: Add an exit intent pop-up when potential customers are near the end of the checkout process.
This will let you know exactly who is considering making a purchase versus those who aren't interested anymore.
Exit intents can feel weird, but it really is making the best of the situation.
It gives potential buyers one last chance to purchase before they leave your site. You never know who might just need that last little nudge or incentive to complete their sale.
And on the other hand, if the shopper is leaving anyway, having an exit intent will give you the opportunity to get their email address/contact information.
Then it could possibly turn into a connection that will last much longer than Black Friday.
There are a lot of Black Friday shoppers out there– which means there are going to be a lot of abandoned carts… Don't let those interested customers slip away.
Check out my full-length YouTube video to get more details on exactly how to make the most out of the abandoned carts this holiday shopping season.