Three Easy Steps to Making the Most Out of Your Black Friday Sale
It is that time of year again!
The leaves are changing, the temperatures are dropping… and people are starting to think about the holidays… Which means they're gearing up for Black Friday.
Holiday sale season can be a great opportunity to increase your revenue… but you need to put in some work before the sale kicks off. In this blog post we will cover 3 important pre-sales steps that you should take before launching into your Black Friday sale.
Planning early is a critical step to a successful sale. Black Friday and the Cyber 5 Weekend can be one of the most profitable times for your business.
But, if you don't take a strategic approach and plan in advance, you'll end up stressed and frazzled in the days leading up to your launch… When you should be baking pies and spending time with your loved ones.
Plan Exactly What Your Black Friday Sale Offer is Going to Be
Are you offering a percentage off of all products?
Are there offers, products, and services that you aren't going to include in your sale?
If you are selling products, what's your plan for shipping costs? Will they also be discounted with this sale or not included at all?
Have you thought about disappearing bonuses or how your customers can give your products/services as gifts?
Depending on where you are in your business development, these questions can vary wildly, and it may take some time for you to figure out exactly how much savings customers should expect during your Black Friday Sale.
However, you need to have a clear idea of what your Black Friday offers will look like before you start telling your audience that you're having a sale.
Strategy before marketing, friends.
When you have a solid plan in place, it ensures that everyone (you, your team, and your customers) knows exactly what to expect when they shop with you over the holidays.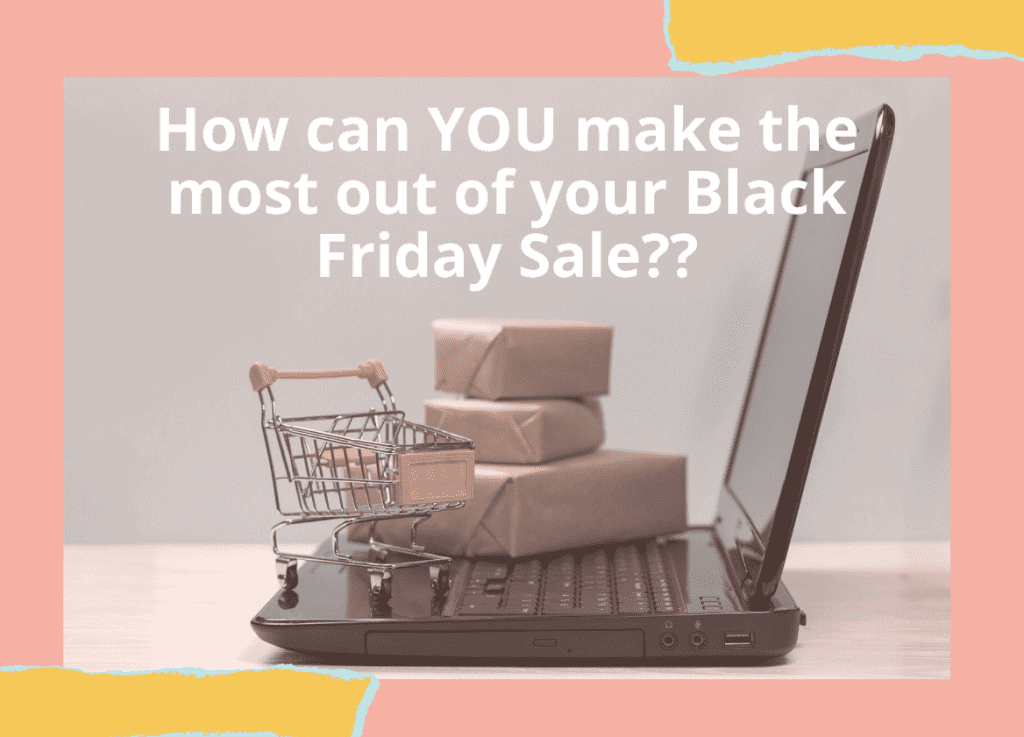 You Need to Plan Your Open and Close Cart Dates for Your Black Friday Sale
It's SUPER important that you lay out the specifics of when your sale is happening. I'm talking nitty-gritty details here… You need to think about pre-sales, waitlists, open cart dates, time zones, close cart dates, bonus time extensions, and more 🤯…
There's a lot to consider and plan for– which is why you need to start planning so early.
Questions to Consider When You are Planning Your Black Friday Open and Close Dates
❓  Are you going to offer exclusive early access to select groups of people?
❓  Are you planning on having a pre-sale? If so, when are the pre-sales going to start?
❓  Once your sale is live, how long is it running for?
❓  What is your closed cart date and time?
*Pro Tip: The time element here is SUPER important… I would recommend closing a cart at 11:59 PM on whatever date you decide. Setting a close cart time of "midnight" can get REALLY confusing.
❓  Will you have an extended time option (for people in different time zones or just to be really nice 😉)?
Having an understanding of how everything works together will help you have a strong handle on your sale offerings.
Plus, once you start marketing, your audience will be completely clear on what your sale is and when it's happening. 
The last thing you want is frustrated customers because someone missed something important about your big holiday sale.
All this planning ahead of time also gives you the chance to target your audience. Then you will have the time to send exclusive pre-sale offers to your VIPs.
Get Your Black Friday Email Sequence Planned and Written Now!
Everyone's life gets chaotic during the holiday season.
Your customers are busy, and they are being bombarded with emails from early November through the new year.
So, the last thing you want to do is send out less than stellar emails to your audience–  all because you got busy (hello, holiday season 👋) and now you don't have the time to devote to putting together those super catchy emails… Let alone a whole sequence that will dramatically increase your revenue. 
You have to be ahead of the game… Your emails have to be planned, written ahead of time, and optimized to stand out among a sea of millions of emails that will be sent out.
You know by now that email is your best weapon in the marketing game– and that only increases over the holidays.
When consumers access sales through an email, they are likely to spend 138% more than people who don't receive email offers (Campaign Monitor).
You have to capitalize on that!
Sending out a few promo emails that you threw together while you were on the road to grandma's house isn't going to do it.
Your Black Friday Email Sequence Needs To...
You need to warm up your audience… Then really turn up the hype in the final stretch leading up to the sale.
Sending recurring reminders, abandoned cart emails, upsell emails, and delivery fulfillment emails will only make your Black Friday bottom line stronger.
Having a good understanding of what to expect during Black Friday is important in making sure that you get the most out of this year's sales!
By taking these three steps to prep your sale, your life will be SO much easier during your sale. You can feel confident that you're giving your audience the amazing deals (and service) they are looking for from their favorite eCommerce businesses.
And, when you consider the fact that this is one of your best opportunities to turn a profit during the hectic holiday shopping season…
You will understand why planning ahead really makes sense.
Now get out there and start planning 😉!