Black Friday is the most important day of the year for many businesses, and email marketing can be your one-stop shop to convert more customers. Today, I'm walking you through the four sequences that you can set up ahead of time so that they go out automatically on Black Friday… Not only will they be ready to send out to your audience ahead of time, but they will also generate an increase in sales.
Be sure you have an abandoned cart sequence for your Black Friday Sale.
The first and probably most important sequence you need is an abandoned cart sequence. I'm sure you've heard me say this before, but up to 70% of carts get abandoned before potential buyers finish their purchase. There are a lot of reasons behind this, but most often, it's because they have an objection or question about your offer. If that's not the case, then they may have gotten distracted or side trakced and never finished what they started.
An abandoned cart sequence will go out automatically to anyone that didn't complete their purchase after adding items to their cart. Sometimes people just need the friendly reminder that they left something behind. Sending this sequence also gives your the chance to answer questions and bust objections. Both of these things can lead to the completion of sales that wouldn't have happened without those emails.
You want this sequence set up ahead of time so that it goes out on autopilot the second your Black Friday sale starts! Without a doubt, this one will be well worth your time!
You need a sequence that goes out to people that didn't open your original Black Friday offer email.
There is also great value in setting up a sequence that'll go out to the people in your audience that didn't open your initial offer email. This is a great way to get your offer out there. Sometimes people's inboxes are flooded with messages. This will be especially true over the Black Friday shopping weekend. There are BILLIONS of emails sent during the five days around Thanksgiving (Campaign Monitor). 
Maybe your first email got overlooked. Or maybe someone in your audience hasn't checked their emails in a few days and the only ones they actually notice the next time they're in their inbox are the ones from the last 24 hours.
By sending out that follow-up sequence for unopened emails, you're dramatically increasing your chances of being seen. You never know… That follow-up sequence could be offering someone exactly what they needed. They just didn't know about it before.
Upsells and downsells... They need a seqeunce for your Black Friday sale, too.
The next sequence that yields huge results is an upsell sequence. By offering your audience something else in addition to your main offer can really benefit you and them. You'll increase your cart value and overall sales by offering an upsell. Your customer will also get several products/services that solve more than one problem for them– for a great deal.
Bonus tip– include a downsell sequence, too! This is a great option for you if you have something in your offer ladder that has a lower cost than your original offer. 
Making a downsell is SO much better than not making a sale at all!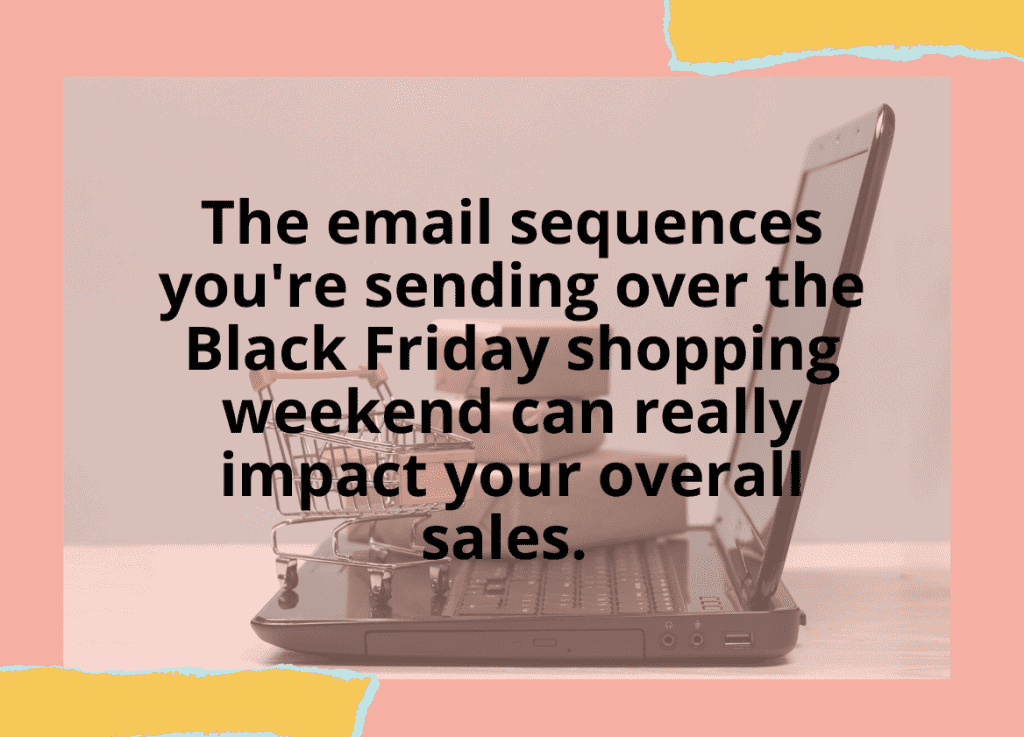 If you have a waitlist offer for Black Friday, it needs an email sequence, too.
Finally, be sure you have an email sequence ready if you're creating a waitlist offer. By setting up a sequence for this group, you are making sure they're getting all the information they need leading up to the launch they are waiting for. You can also use it to send them special offers and insider tips. It's a great way to really build relationships with a specific segment of your list.
There is a lot on your plate during the Black Friday shopping weekend. Having email sequences written and set up to go out automatically will eliminate a ton of stress from your sale week. Plus, setting up these four sequences can make a huge impact on how much revenue you make during your sale. 
Be sure you get these four sequences set up ahead of time to make this your best Black Friday yet.