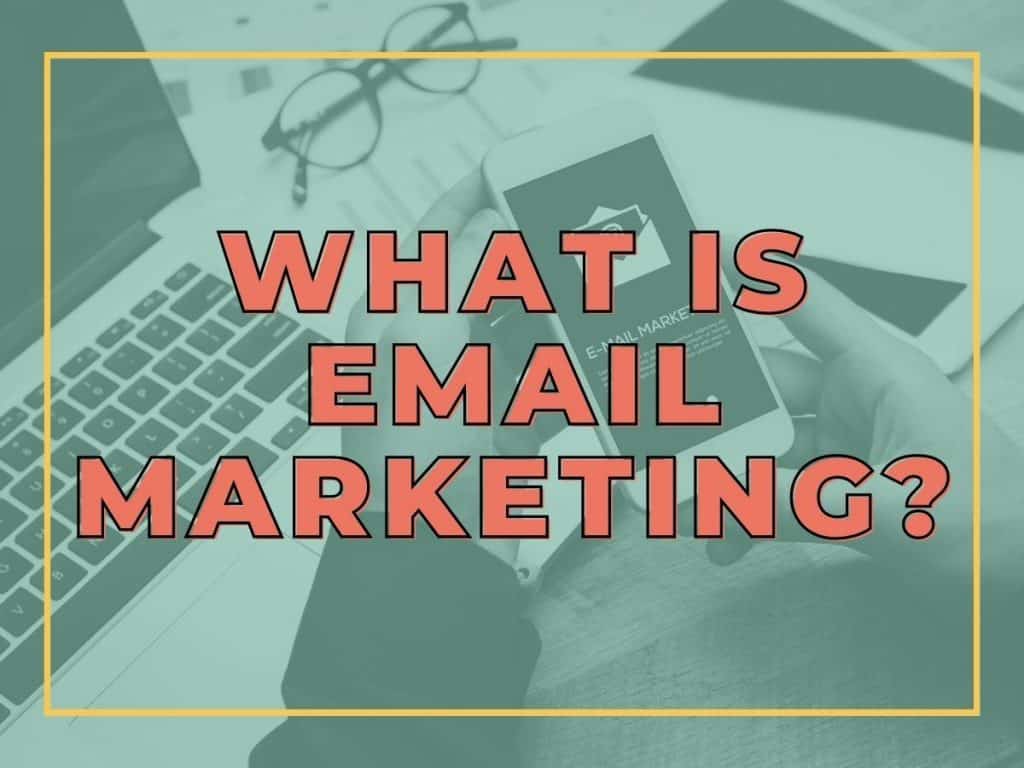 Email marketing is utilizing the power of emails to make sales to those who have opted in to your email list.
Every email can help nurture your list or sell to your list, both of which either indirectly or directly impact the amount you can make with your emails.
The main aim of email marketing is to promote your products or services through email communications by building customer relationships for future sales.
Email marketing is a long game because it is built on relationships. Once those relationships are formed (and continued) however, it can be utilized to make sales at any point during the year.
The benefits of implementing an effective email strategy are vast. For one, email marketing can be measured. It's easy to discern how well it's working already and make any adjustments.
It also allows your customers a convenient way to make purchases from anywhere they have internet access. Whether they're reading your emails on their computer, tablet, or phone, email marketing can reach them across phone types and email servers. Consistently emailing is a surefire way to get closer to your target market and increase loyalty among customers.
Data shows that email marketing is not only a brilliant way to reach your target market, it's also one of the most cost-effective ways to reach your ideal customer.
Additionally, with email, you can personalize your messages so that they are relevant and interesting to each recipient. Emails that include interactive elements (such as videos, polls, or surveys) tend to have higher engagement rates than those that don't.
In a nutshell, email marketing is an excellent way to reach your audience and build a relationship with them that leads them to become buyers again and again.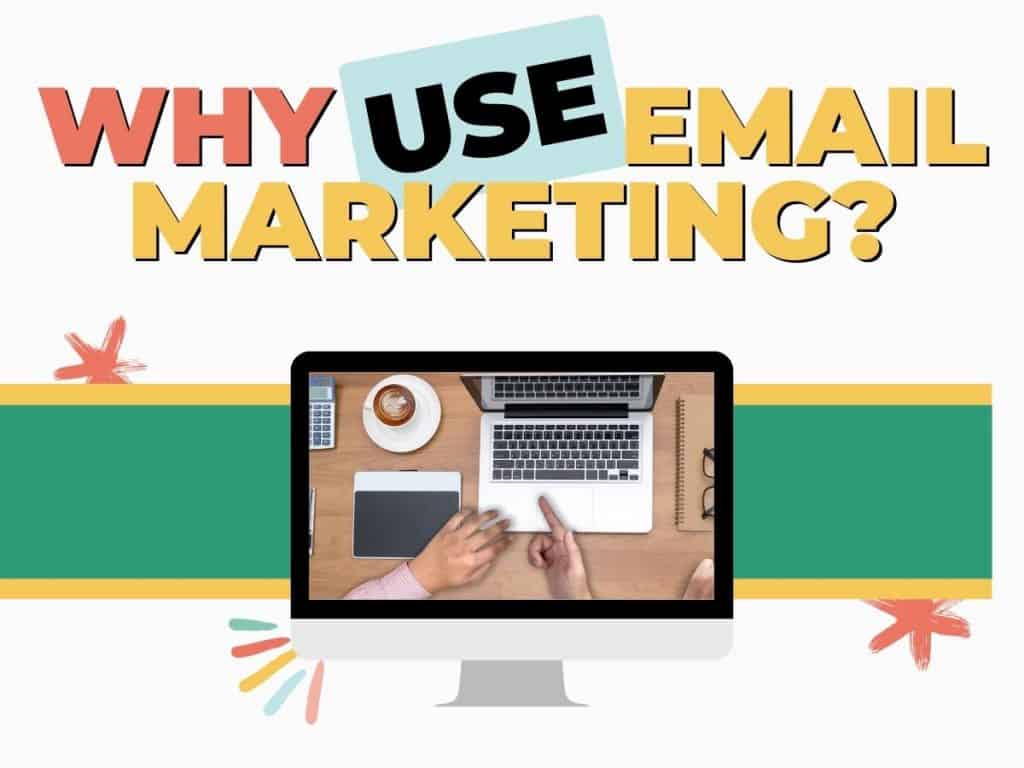 Email marketing is a powerful tool that should not be overlooked. Here are some reasons why you should use email marketing.
Reach Your Target Audience
Email is an effective way to reach your target audience. When subscribers opt-in to receive your emails, they're telling you that they want to hear from you. Other marketing channels are less targeted. The people on your email list have literally raised their hand and signed up to hear from you. With email marketing, you can laser-focus your messaging to meet your ideal customer where they are.
Email messages have a higher engagement and conversion rate than social platforms and other forms of advertising. This means that more qualified people (those who have said they want to hear from you) will see your message.
Even if you only had a 10% open rate and a list of 5000, that's still 500 people that have physically opened your email to read what you wrote.
Build Loyalty
Email allows you to build loyalty among customers and create a group of fans that want to hear from you. Through consistent emailing and nurturing, you have the opportunity to develop loyal relationships with your customers and potential customers.
Unlike social media which can change algorithms at a whim and take you from being seen to being ghosted, email doesn't work that way. As long as you're not spamming your audience or sending emails that make your audience think you're spamming them… you'll be seen more via email than social media.
And if you do lose deliverability, there are actionable steps you can take, unlike social which can sometimes be changed on a dime and if you lose favor with the Zuck gods, it's not uncommon to never find out why your posts aren't being shown or how to fix it.
Email is also a good place for customers to provide feedback and interact with your company. The easiest way to get consistent, meaningful responses and feedback from your audience is through the questions you ask your email list.
Increase Sales
Email marketing is proven to increase sales and decrease costs associated with other forms of advertising. In addition, it's very affordable since most email marketing services are free or low-cost options for small businesses.
Emails can be tracked and measured in real time against the goals that you set for yourself and your business: opens, clicks, unsubscribes etc. You can even use split tests to see what language and wording is performing best. This allows you to measure and compare the success of your email campaigns against other channels and other times within larger marketing campaigns.
Split tests are especially helpful when selling via evergreen emails because you can continue to tweak to completely optimize your evergreen email sequence.
Typically you can expect to make sales every time you send out a sales email to your list.
That is exactly why email is often referred to as a cash machine.
Because as long as you've been consistently nurturing your audience, when you make an offer statistically you can expect at least some of your list to buy.
If you don't, then there are a few reasons this could be.
Typically if you're not making sales from your marketing emails, the reason comes down to: is the offer a good one – is it what they want? Do they understand the offer? Is the copy accurately expressing it? Is the copy making it juicy enough so they know how it will help them and why they'd want it now instead of later? And finally… are you consistently nurturing your audience so you're not ONLY sending them sales messages?
More Effective
Using email marketing (especially evergreen email marketing) is more effective than many other marketing efforts.
First, emails allow you to target a specific audience so you can communicate more effectively with them, resulting in more sales. For example, if you know that every three months, your audience needs more of what you sell, you can have automated emails go out to remind them to purchase, giving you repeat buyers without a lot of extra work on your part (because you create the sequence once and then it continues to run for you).
Second, your email marketing efforts are best used when you send those on your email list to your other content sources
Third, subject line. They would be less likely to open emails about other products since they didn't buy those items before it will not help their situation at all! On the other hand, if you were selling high heels a customer may want a catalog emailed to her home every month even though she hasn't bought anything from you before.
Fourth, it's easy to measure a successful email marketing campaign. You can drive sales directly from the marketing email and measure how the email or email automation is impacting your sales.
Finally, Email provides the perfect opportunity to upsell and cross-sell other products and services within your business. You can use email marketing to alert loyal customers of other available offers and encourage them to buy more, or buy other items that might be highly relevant to what they already bought from your company. You can also recover lost sales (through abandoned cart emails) and remind those going through your funnel who did not buy an upsell or downsell to do that.
It makes your marketing work for you and helps you increase the average lifetime value of your customer.
Build Long-Term Relationships and Customer Loyalty
Email lists are great for customer retention as well as acquisition! This is because some people who receive emails from you on a regular basis may start purchasing more than just the one product that they first opted in for when they first sign up on your website which means additional revenue!
If you've been around for a while, you know that here at Win with Systems we heavily encourage evergreen emails so that not only do you have the nurture emails going out (which are genuinely helping them!), your transactional emails are making more sales for you.
People often overlook the fact that email marketing allows you to develop long term relationships with your customers. Compared to other forms of marketing, email is a more personal medium since it allows you to have a conversation with other people about the products and services that they need (and with people who have said they want to hear from you!)
Email marketing should not be overlooked as other channels are becoming less effective over time.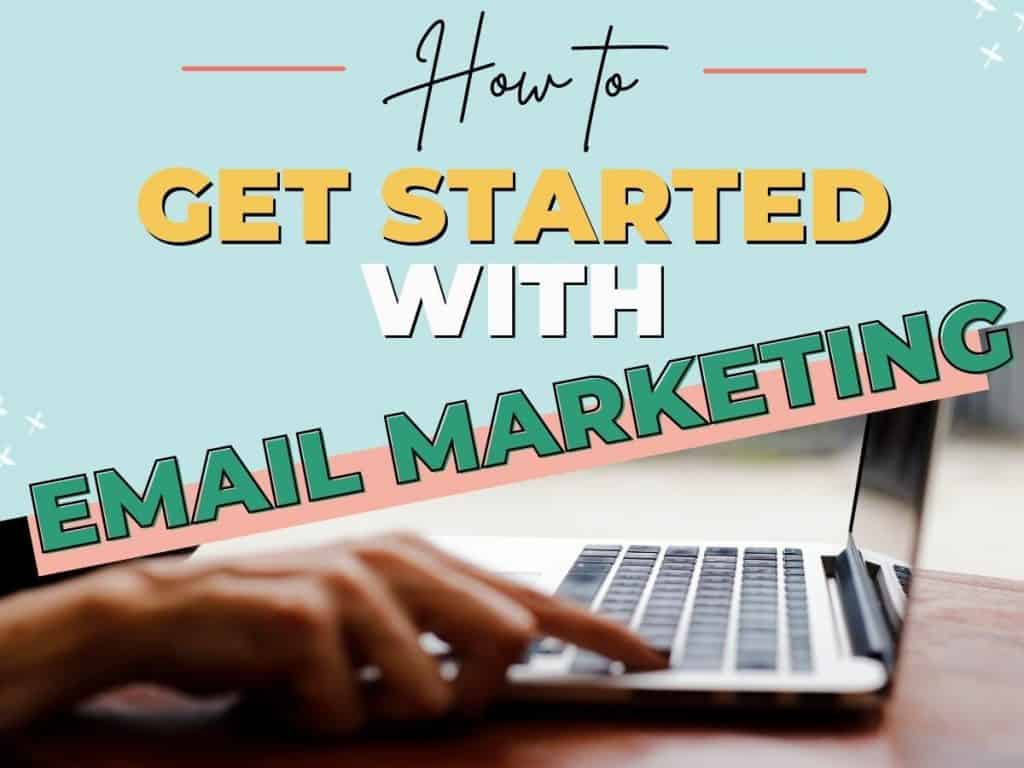 How to Get Started with Email Marketing
Once you have decided to start using email marketing, the next step is to select an email service provider (ESP). An ESP will provide you with the tools and solutions needed to execute your email marketing campaigns.
There are a number of different ESPs available, so it is important to compare the features and pricing of each before making a decision. Some of the most popular ESPs include:
– Mailchimp
– Constant Contact
– AWeber
– Campaign Monitor
-MailerLite
-Klaviyo
-Convertkit
-ActiveCampaign
-Keap
-FloDesk
-KartraMail
– iContact
– Vertical Response
Each of these ESPs offers a range of email marketing solutions to help you accomplish your goals. Some examples of email marketing solutions include:
– Email Newsletters
– Email Follow Ups
– Email Autoresponders
-Email automation and rules
– Predictive Analytics
What Questions Should You Ask Yourself When Picking an Email Marketing Program?
When picking an email marketing program (ESP), consider the following…
What is the cost?
Is it per subscriber or per month? Some charge a flat rate for certain features while others offer packages that include more features for a set price. Some systems, like MailerLite, are free for the first 1000 subscribers and then increase in price from there. Others are a flat fee for around $30/mo for up to 5000 subscribers. Which option is best for you?
What are the capabilities?
Can you tag and segment as you'd like? I prefer not to use FloDesk as one of my email marketing tools, for example because while I love the beautiful emails you can create in FloDesk, I want to be able to do more with my tagging and segmenting. For me, that program is not as robust as I'd like. If I want something much more robust, I might be looking at KartraMail, ActiveCampaign or Infusionsoft by Keap.
How easy is it to use?
While programs like Infusionsoft by Keap has a much more in depth capability, I don't know anyone that would say it's easy to use for someone beginning. In fact, the going joke was that it should be called "Confusionsoft" instead of "Infusionsoft." That doesn't mean it's a bad program — just that it's likely not best for a beginner.
For ease of use, my favorite providers are Convertkit, MailerLite, or Mailchimp, and out of those three, my very favorite is Mailchimp due to the simple drag and drop editor.
Once you have selected an ESP, you will need to create an account with them. This process is usually very simple and only requires a few pieces of information, such as your name, email address and company name.
Next, you will need to create your first email campaign. This will involve selecting the email content, email subject line, design, a compelling call to action, and target audience.
Follow email marketing best practices to create an effective email campaign by thinking about what you want your subscribers to do once they receive it. Consider what you want them to do and think before you start writing your email.
Use an email subject line that will pique their curiosity and get them to open the email. Then use a compelling call to action to increase your click through rate and get them visiting your blog or whatever action you want them to take.
Best Practices and Email Marketing Tips for Calls To Action
For new subscribers, avoid calls to action that are heavily salesy and urgency driven (like "buy now, enroll now", etc.) New subscribers often haven't developed the know, like, and trust factor with you yet and need some more time for that before committing to buying (or at least without being turned off with that language). Language like "learn more" is more effective for a cold list or new subscribers.
For warm subscribers that have been with you for a while, more sales-driven language will work (as will the "learn more" language. If you are using more sales-type language, be sure to include a few lines about how exactly the offer will help them.
There are many "best practices" and another is to check how your emails look on not only desktop, but also on mobile devices, seeing as how more than half of most of your list will be viewing the email from mobile devices.
Once you have created your email campaign, it's time to schedule the delivery. Your email campaigns should be sent out at least once per month, with a maximum frequency of no more than four times per month.
Avoid the spam folder by sending emails that are useful, helpful, not filled with bait-and-switch subject lines and content, and always give the reader the option to unsubscribe.
Finally, you need to set up an analytics package for your email marketing campaigns. This will provide you with detailed information on each campaign's performance, allowing you to make adjustments as needed.
One more important thing to remember: never, ever send unsolicited emails. If someone has requested to be removed from your list, remove them and do not continue to send them emails. If someone has not given you permission to email them, do not email them.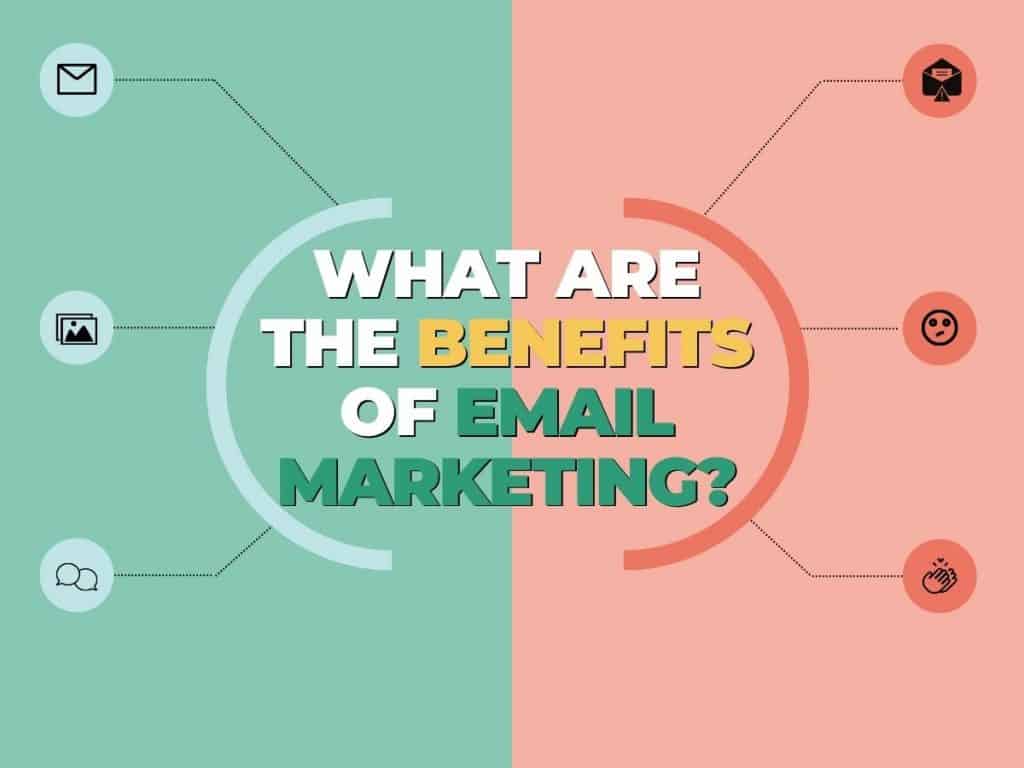 What are the Benefits of Email Marketing?
There are many benefits associated with email marketing . We have already looked at some elsewhere here but for now we will only look at some more popular ones:
1. Increased Reach
With email, you have the potential to reach a much larger number of people than you would through other forms of communication such as social media. This is because email reaches everyone who has given you correct and accurate information about themselves so it's easy to deliver targeted messages to all those individuals. Email also allows your campaign's message to stay relevant over time as recipients can read it any time they want rather than just once when compared to other forms of communication.
2. Cost-effective
Email is one of the most cost-effective ways to reach your target market. You can easily measure how well your email campaigns are performing, and you can adjust your efforts accordingly.
3. More Personalized
Email marketing allows you to be more personal with your recipients than other forms of communication. You can easily target specific groups of customers based on their interests, demographics, or past behaviors. Additionally, you can customize your email messages to better reflect the individual recipient's needs and preferences.
4. Increased Sales
Email marketing has been shown to be highly effective in driving sales and revenue growth.
5. Improved Customer Loyalty
Email marketing can help you build stronger customer relationships, which can lead to increased loyalty and longer-term customer value.
6. Increased Engagement
With email, you also have the potential to increase engagement with your target market as opposed to other forms of communication. This is because email recipients have more control over when and how they view your message.
7. Greater ROI
In general, email marketing provides a higher ROI (return on investment) than most other marketing tactics. For every dollar you spend on email marketing, you can expect an average return of $44, whereas for social media it's only $6. Furthermore, email is still the number one way to acquire customers.
8. Easier to Measure
With email marketing, it's easy to measure how well your campaigns are performing. This allows you to make necessary adjustments to ensure that your efforts are as effective as possible. You can track things such as how many people open your emails, click on your links, or unsubscribe from your list. This information helps you to fine-tune your campaigns so that they appeal even more to your target market. You can also utilize metrics to assess your efforts' ROI, helping you determine which email marketing strategies are the most effective for your business.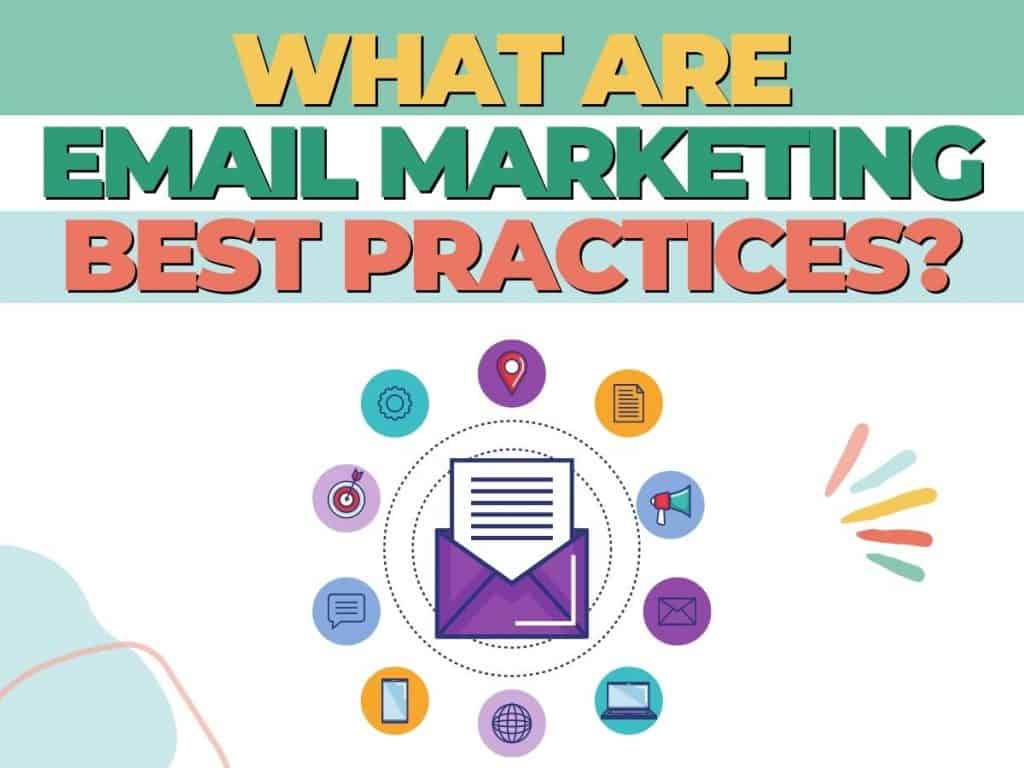 What are Email Marketing Best Practices?
• Always use a catchy and interesting subject line.
• Keep the email body brief and easy to read.
• Use images sparingly (or not at all). If you're in e-comm, using images can be extremely helpful.
• Encourage readers to take action by providing a CTA (call to action) at the end of the email
• Make sure your spam score is low – using an email marketing service can help with this.
• Test different versions of your email campaign to see what produces better results – this is known as split tests.
• Personalize Your Messages: One of the things that makes email so personal is its ability to deliver a message directly to someone's inbox. Take advantage of this ability by creating dynamic messages based on each recipient's preferences and interests. This will help improve engagement rates as well as conversions. Consider creating more than one version of an email if you want to increase open rates even further. Convertkit does conditional messaging, which really allows you to do a lot of really cool conditioning messaging.
• Avoid Annoying Recipients with Too Many Emails: With email, it's easy to overdo things and end up annoying recipients with too many messages. Be mindful of this when creating email campaigns; send your subscribers only the most relevant information that is actually useful for them.
• Avoid Spam Filters: Many consumers delete emails from unknown senders in order to prevent spam filters from flagging their inboxes. One way to circumvent this problem is by including an opt-in link at the bottom of every email. This will make it easier for recipients to subscribe and thus become legitimate members of your business's mailing list. You can also add a line or two that highlights the benefits of joining your emails list.
• Send Relevant Messages: Your email marketing campaigns should be as relevant to your subscribers as possible. In other words, you must use their best interests as a guide when crafting these messages. Always avoid sending commercial content that is not of value to the recipient or does not appeal to them in some way.
• Allow People to opt out of Emails: Just because you have sent someone an email doesn't mean they want to receive more from you down the road. They may have changed their minds about receiving email information from your business and thus opened themselves up to being put on the proverbial "sucker" list for future campaigns from you.
Make sure that people can easily opt out if this happens by adding a link that will enable them to unsubscribe from receiving future emails.
• Give Them an Immediate Problem to Solve: Email marketing is extremely effective because it allows you to provide content that solves problems and answers questions in real time. Sending a message directly into someone's inbox makes them feel like your business cares about their needs and desires, thus strengthening the connection between you and your subscriber base.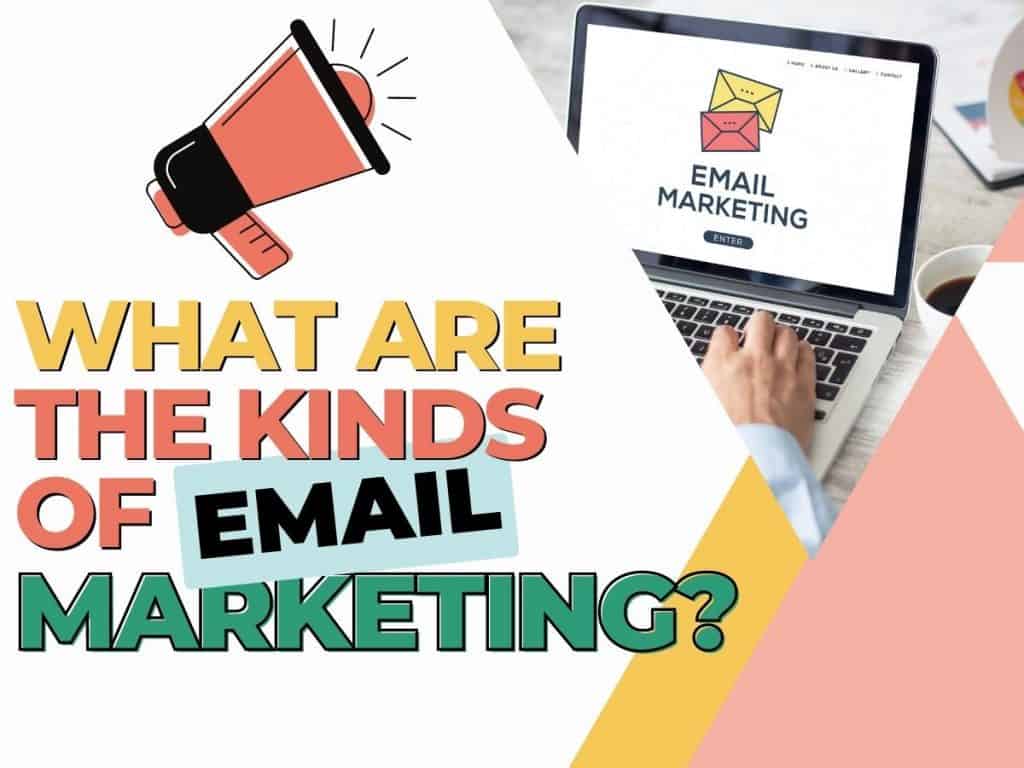 What are the Kinds of Email Marketing?
There are four kinds of emails.
Broadcast, or live emails, are sent out to all of your subscribers at once. They're typically used for urgent announcements or limited-time offers.
Weekly email newsletters are a great way to keep in touch with your subscribers on a regular basis. You can share blog posts, upcoming events, and other newsworthy items.
Evergreen emails are designed to be sent out on a recurring schedule, such as monthly or weekly. They typically include a mix of content, including articles, images, and promotions.
Launch emails are sent out when you're launching a new product or service. They can be used to build anticipation and generate excitement among your subscribers.
Which type of email marketing campaign is right for you?
Which email marketing campaign you should use depends on several factors, including your business goals, email list size, and other email marketing initiatives.
If you're just starting out with email marketing, it's a good idea to begin with weekly email newsletters. This gives your subscribers time to get familiar with who you are and what you have to offer. Then you can experiment with other types of email campaigns once your list grows larger.
Broadcast emails work well if you need to get information out fast or make urgent announcements.
Evergreen emails are great for comprehensively covering topics in-depth over time and for making money (and nurturing). These are the most important kinds of emails to include as soon as possible.
Launch emails are perfect for generating interest in new products or services. You'll use your launch emails when promoting a product or service.
No matter which email marketing campaign you choose, make sure that your content is relevant and valuable to your subscribers. This will help ensure that your email marketing efforts are successful.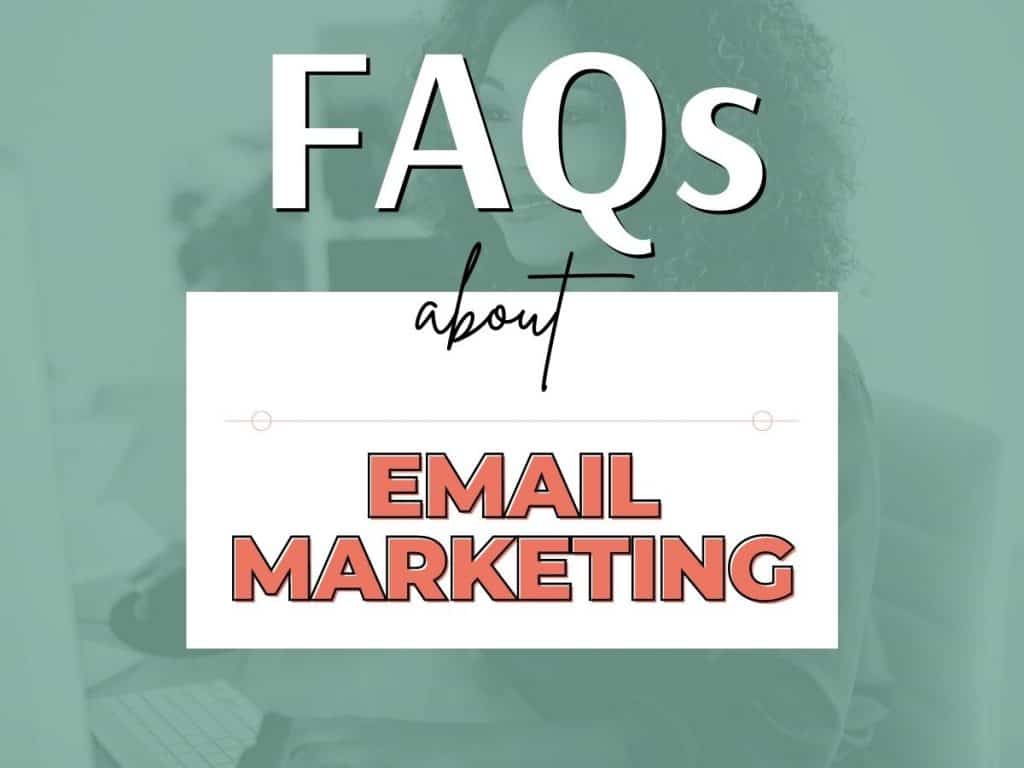 FAQs about Email Marketing
Q1: What is email marketing?
Email marketing is about sending emails to your list of subscribers with the purpose of increasing your sales and nurturing your subscribers (so you can make more sales, and also help your audience).
Q2: How many promotional emails can I send?
There is no set limit on how many promotional emails you can send, but it's always important to be mindful of your subscribers' preferences. It's best to start with a small number of well-crafted emails and then increase the frequency if you see that they are getting good results. Also, make sure to space out your promotions so that your readers don't get overwhelmed with too many.
Q3: What is email deliverability?
Email deliverability is the percentage of emails that reach their destination (the subscriber's inbox). In order to achieve high email deliverability rates, you need to make sure that your email content is valuable, relevant and interesting to your subscribers. Additionally, you should also follow email best practices such as sending emails from a relevant email address, adding a simple unsubscribe link and including an accurate "from" name.
Q4: How do I make my email marketing strategy?
In order to create an effective email marketing strategy, start by clearing defining who your audience is, what they want and need, and how you can help them. Your email strategy should include where your leads are coming from, what they know when they come to their list, and if they are problem unaware, solution unaware, or solution aware.
Next, consider the journey you want your customers to take that will help them become a customer (and one who keeps buying)!
Determine how often you want to email your list – usually once per week is recommended for most businesses. Make sure to always include valuable content in these emails – they should not only advertise your business but also teach people about something new or interesting they may not have known before.
Your strategy should also include a consistent review of your email analytics to see what is and isn't working both in the kinds of emails, frequency, and wording of the emails.
Q5: How can I improve my email open rates?
There are a number of things you can do to improve your email open rates, but the most important is to make sure that your subject lines are catchy and interesting. You should also test different subject lines to see which ones get the best response.
Additionally, you should make sure that your email design is attractive and easy to read. And finally, always send emails from a recognizable email address so that people will be more likely to trust them.
Q6: What's the best time to send promotional emails?
The best time to send promotional emails varies depending on your target audience. However, it's usually recommended that you send them during the morning or evening hours in order to catch the most people. Generally speaking, weekend days usually get less email traffic than working days – this is when you should send your promotional emails if possible.
As a general rule of thumb, weekdays after 7 pm is usually best if you're trying to get a reply, and afternoons from 3-7 pm are typically best if you want your audience to click a link.
As previously mentioned, this is ultimately dependent on your audience, so be sure to review your analytics.
Q7: What's the best way to promote content?
The best strategy for promoting content is usually sending it along with a valuable piece of advice. This can change if you're in the middle of a launch, but You should also use a catchy title and include a good call-to-action so that readers will be more likely to click on it. Finally, test different headlines and see what works best for your audience!
Q8: How do I design my email marketing campaigns?
In order to design your email marketing campaigns, you should start by creating a simple template that can be reused for all of your promotional emails. This will help to maintain a consistent look and feel across all of your communications. Additionally, you should make sure that your email design is easy to read and includes plenty of whitespace so that it doesn't look too crowded. Finally, always use high-quality graphics and avoid using too much text – people are more likely to read short, punchy emails.
Q9: What's the best way to track email marketing results?
The best way to track email marketing results is to use an analytics tool such as Google Analytics or Kissmetrics. These tools provide detailed information about how many people opened your email, clicked on your links and unsubscribed. You should check these statistics regularly to see which strategies are working best for your business!
Q10: What's the difference between web-based email marketing software vs. desktop email marketing software?
The main difference between web-based email marketing software and desktop email marketing software is that you will need a computer in order to use the latter, while the former can typically be accessed through any internet browser anywhere. Desktop emails may also look nicer – especially if you are planning on sending your promotional emails to multiple people at once! However, web-based email marketing tools do have some advantages – for example they tend to be more affordable, come with additional features such as an autoresponder and are easier to manage.
Email marketing is a great way to promote your business and connect with customers, but it can be difficult to know where to start. These are some of the most frequently asked questions about email marketing, along with their answers – so you can start creating successful email marketing campaigns right away!
In order to create successful email marketing campaigns, it's important to understand the basics of email deliverability, email marketing strategy and promotional emails. Additionally, you should make sure that your email design is attractive and easy to read, and that you're using the best time to send promotional emails. Finally, always track your email marketing results so that you can see which strategies are working best for your business.
Top tips for successful campaigns
1. Begin your campaigns with a response request. By requesting a reply, you can help improve your deliverability while also building a relationship with your audience.
2. Include an interesting subject line and test it on subjectline.com.
3. Plan the sequence, campaign, or even broadcast email ahead of time with this question in mind: "What do I want my audience to do or feel by the end of this email?"
4. Include a compelling call to action – ONE call to action in a few different places on the email, preferably at the beginning, middle, and end.
5. Review your email analytics often to see what is and isn't working.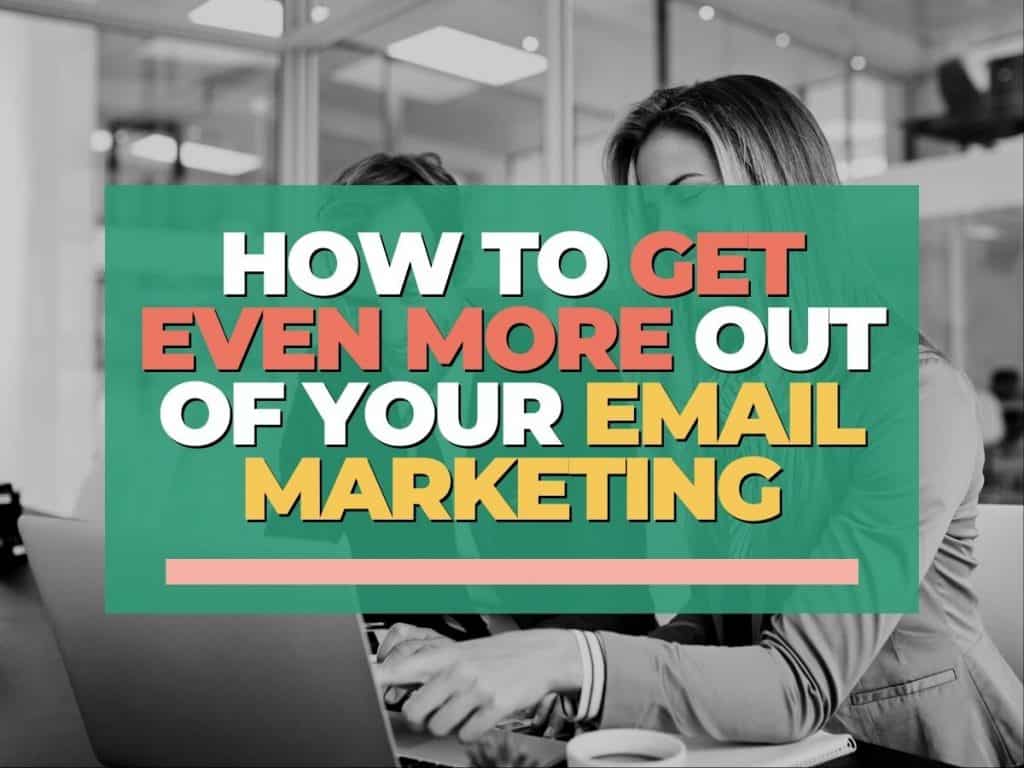 How to Get Even More out of Your Email Marketing
Add in marketing automation
Marketing automation is the next step to mastering email. Marketing automation examples can include…
• Welcome sequences
• Fulfillment sequences
• Buyer sequences
• Re-engagement sequences
• List hygiene sequences
• Year-Long nurture and sell sequence (we call this an evergreen sequence and truly all the sequences above are evergreen sequences
Improve Your Email Subject Line Game
The best way to increase your open rate is to improve your subject lines.
The best subject line grader I've seen is subjectline.com. It's regularly updated and you can test your subject line scores to see what you're doing well and how you can improve your subject line.
Connect Your Other Traffic Sources to Email Marketing
Wherever you have traffic sources, have a way for folks to get on your email list so you can be growing your email list through your various channels.
Connect Your Email Marketing to Other Traffic Sources
Send people on your email list to your other traffic sources like
• Your Youtube channel
• Podcast episodes
• A blog post
• Your social media
This can also help with brand awareness.
Marketing best practices like these help you to infiltrate every platform your audience is on so you can be most helpful to them.
Email marketing is a great way to reach a large number of people with your message. It's one of the most cost-effective ways to reach your target market, and you can personalize your messages to ensure that they are relevant and interesting to each recipient. Emails that include interactive elements (such as videos, polls, or surveys) tend to have higher engagement rates than those that don't.
Email marketing is one of the most effective business strategies out there today. By nurturing your audience and providing them with valuable content, you can establish a connection with them that leads to sales and increased profits. Keep these tips in mind when creating your next email marketing campaign, and you're sure to see improved results!
If you're looking for more information on email marketing, or need help creating an effective email marketing campaign, contact us today! We would be happy to assist you in any way we can. 🙂
What are your next steps?
Step 1: If you haven't already picked your email service provider, it's time to choose one. The email service providers I suggest if you want to get your marketing messages out with automated email marketing campaigns or live emails is:
If you're new to email marketing or have used email marketing before but aren't advanced:
Convertkit, MailerLite, or Mailchimp are likely your best options. All three are fairly easy to use for email marketing success without being so confusing or expensive that you'll never use that particular email marketing platform.
In a nutshell, this is a great place to start when it comes to finding the best email marketing software. Are these options the BEST of the best? No, but any of those email marketing platforms are great to start with when you're sending newsletters, evergreen emails, broadcasts, or promotional messages.
If you're advanced in email marketing:
If that sounds like you, my favorites are Active Campaign and Kartra. Both give you many options for customizing and personalization and the sequencing options you have are bar none.
If you have an e-commerce store, my suggestion would be Klaviyo.
If you're a genius already with email service providers:
Keap is great if you know how to use it and the flow of your emails. It can be massively complicated so I would typically suggest avoiding this for your marketing emails unless you have someone that can help.
Effective email marketing campaigns have to actually happen in order for them to be effective so at the end of the day, the best email service provider you can choose is one you will actually use.
Step 2: If you haven't already, get clear on your ideal audience and how you can help them.
Step 3: Begin sending broadcast emails consistently.
Step 4: Set up your email automations, especially your year-long evergreen emails so you can nurture and sell throughout the year. Start making more sales through this form of direct marketing. 🙂
Step 5: Review your email analytics to see what is and isn't working.
Step 6: If the idea of writing your own emails sounds less than appealing, contact one of your favorite email marketers for help. You can reach Brittany and the Win with Systems agency at Brittany@winwithsystems [dot] com.
Brittany is an Evergreen Email Marketing Strategist. She shows her students how to utilize the power of email automation and the positive impact it can have on your business and/or your digital marketing strategy, whether you're looking to acquire new customers, new blog or website visitors, and your sales process all while dialing in on your more targeted messaging.
Whether you're using paid ads or organic, Brittany shows you how to do it quickly and effortlessly so you can turn your opt in subscribers into raving fans through targeted emails, drag-and-drop editors, and increased click through rate.
Email marketers like Brittany are helpful in creating cohesive emails that follow best practices so you can earn more through this form of direct marketing.